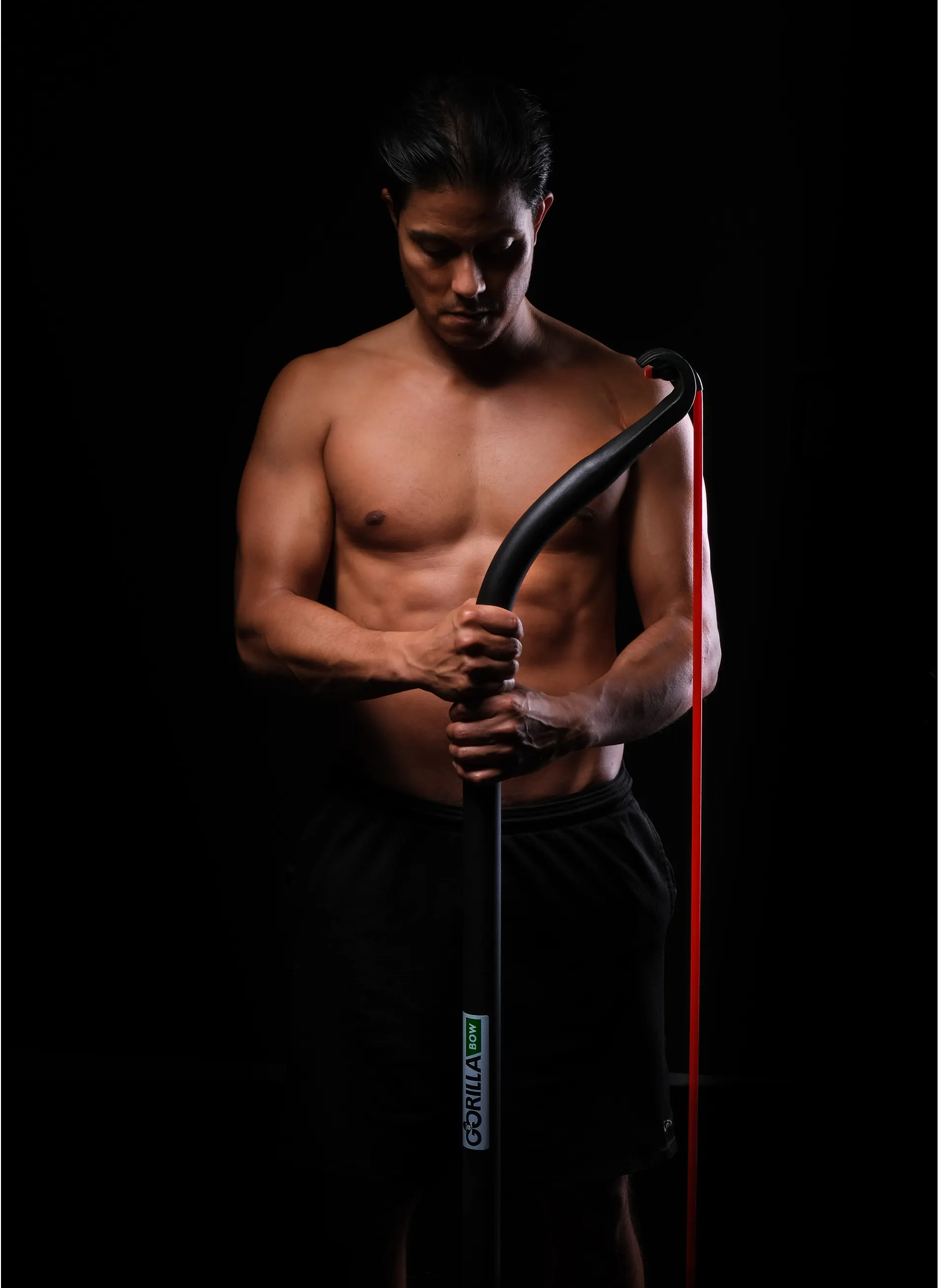 INTRODUCING THE GORILLA BOW 60-DAY CHALLENGE
The Gorilla Bow Challenge is a complete 60-day transformation program, designed to get results.
This isn't just a regular challenge.
You'll be using our revolutionary Gorilla Bow, and you'll get step-by-step training and workouts that take less than 20 minutes to complete.
Here's how it's going to work
When: It starts 1st of October 10 am EST
The schedule: Over 60-days, you will get new workouts released in your membership portal weekly.
The mission: To get you results! Whether you're just getting started… if it's been a while… Or even if you're a pro in the gym.
Our goal is to give you all the tools and everything you need for long-lasting results.  
The more you show up and do the exercises, the better your results will be. It's in your hands. Try this today…
And you'll get a complete workout program, momentum, and your own amazing body transformation you can be proud of.
Click below to join the challenge today.

THE LAST WORKOUT TOOL YOU'LL EVER NEED - MEET THE GORILLA BOW
This is the tool you'll be using for the challenge.
Inspired by the ancient sport's strength benefits, we've created a powerful design that's fun to use, easy on the joints, and can dial up the resistance to 350lbs.
The Gorilla Bow gives you a total body workout, anywhere you want to be without the use of a gym.
It's time to forget free weights. All you need is a Gorilla bow and 20 minutes a day.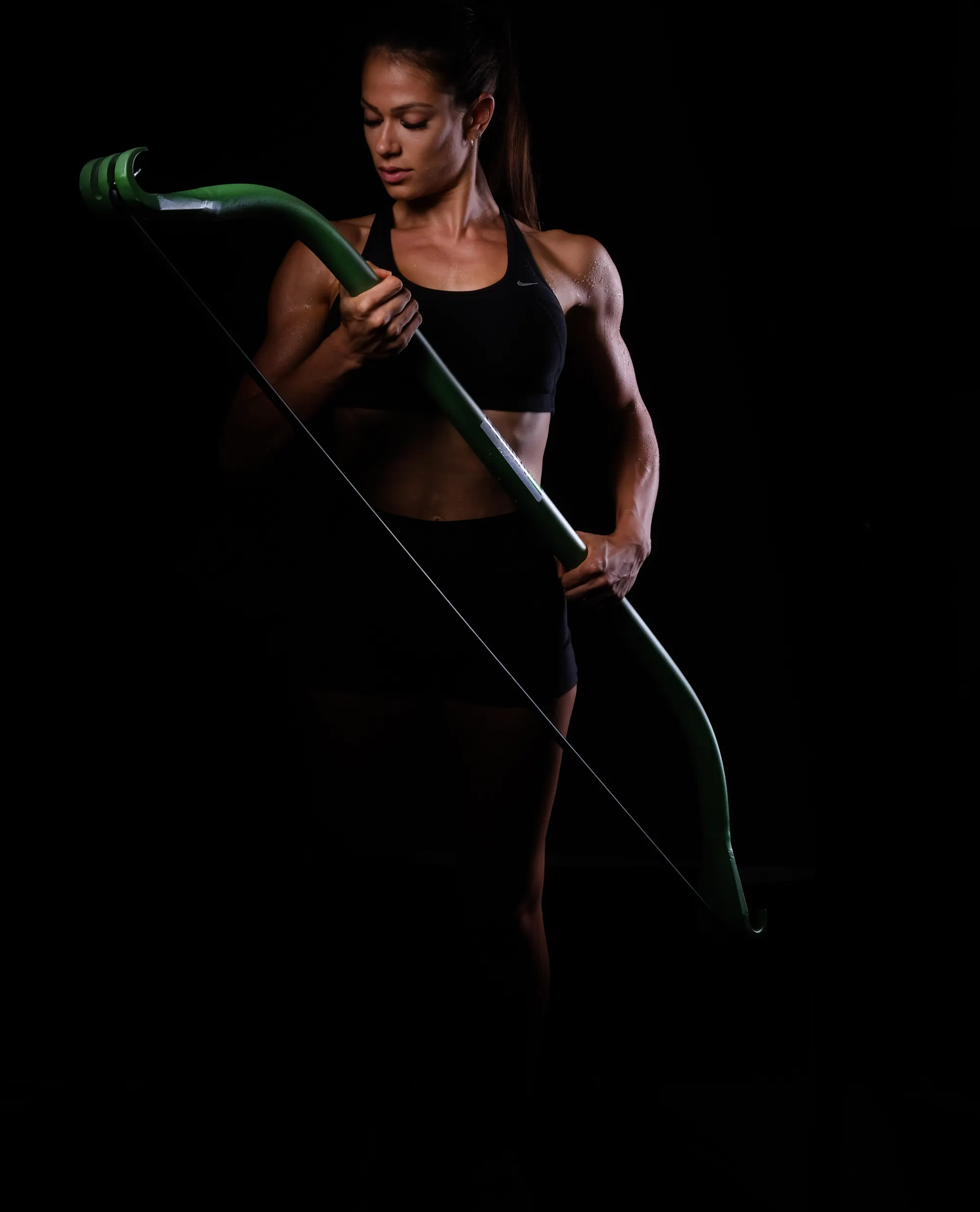 THE SCIENCE BEHIND

THE GORILLA BOW
A SAFER WAY TO BUILD STRENGTH AND MUSCLE
The Gorilla Bow uses resistance band training. Proven to be easier on the joints than free weights (Think heavy dumbbells you see in the gym).
The reason why is because there's less joint compression than free weights and resistance bands use smooth tension instead of fighting gravity.
But that's not all…
Resistance bands produce a different type of tension through your range of motion than free weights.
Instead, resistance bands produce something called Progressive Tension. This creates more resistance through the range of your repetitions.
This means you will get more resistance at the end of every repetition when the bands are stretched the most.
"I love lifting heavy. Gorilla Bow allows me to do that without weights, without significant space and in a highly configurable manner.""
Dr. John Kaplow
Author of Living Smart: Lifestyle change made simple
---
WHAT OTHERS ARE SAYING...
"I have used it EVERY SINGLE DAY, with very light workouts 3 days of the week. My joints don't hurt, My body feels good. And my mind feels even better."
-Joseph W.
"I love my Gorilla Bow. From legs to back to shoulders, this 1 piece of equipment does so much and the addition of different weighted bands allows for great strength training.
-Jennifer A.
"Amazingly, immediate results after just 1 work out using their guide. I love that it is easy to store in case, pack up and go."
-Timothy M.
OUR DURABLE BOWS REPLACE ANY DAY IN THE GYM. COMBINE IT WITH QUICK 20 MINUTE WORKOUTS YOU CAN DO ANYWHERE FOR RESULTS
The formula we create together is simple.




Give us 60-days and we'll give you the step-by-step workouts and the only piece of equipment you need to finally start seeing results that make you look and feel good.
Click Join the Challenge now to get started today.

PLUS, WHEN YOU JOIN THE CHALLENGE TODAY, YOU'LL ALSO GET THESE BONUSES
BONUS 1




N

utrition + Shopping Plan

Value: $37

------------------------------------------------------------------------------------
BONUS 2
Exclusive Gorilla Bow FB group
Brand new group to share support and keep you accountable.
Value: $149.99
----------------------------------------------------------------------------
BONUS 3

Personal Trainer
The training videos for the challenge are guided by experienced, professional PTs.
VALUE: $500+
----------------------------------------------------------------------------
BONUS 4
Chance to win over $4,000+ in prizes
All you need to do to enter is submit a day 1 & day 60 image PLUS evidence of you working with the bow.
The 5 best transformations win a gift voucher in time for Christmas.
1 Grand Prize: $1,500 Visa Gift Card; 5 Winners receive $100 Gorilla Bow Gift Cards; 10 Winners get 1 year of All-Access Membership and 25 Winners get a GB T-Shirt
VALUE: $4,000+

THE GORILLA BOW

GUARANTEE

100% SATISFACTION OR YOUR MONEY BACK
We exist to help you crush your goals and happily accept returns within 30 days.

Fast and Free International Delivery
Your order will be despatched within 2-3 Working days.

TRAIN NOW, PAY LATER.
Choose Affirm at checkout to pay over time as you get your gains. No hidden fees - ever.
When does the Challenge start? How will it be delivered?
The challenge starts 1st of October and ends on the 1st of December.
When you buy the challenge, you will get a Gorilla Bow. Plus we will email you access to our custom membership platform where the challenge will be hosted.
Once the challenge starts you will receive videos weekly to try each day for 60-days. You are able to view the content in your browser on your computer or your phone. There will be some downloadable content that you can print out too.
Can I do this Challenge if I haven't worked out before or in a while?
Yes, the Gorilla Bow Challenge is 100% beginner friendly. As mentioned, we use resistance training for smooth tension so there is less pressure on joints. Plus our certified trainers have designed a range of safe and effective workouts so it is completely safe, regardless of your skill level.
What happens when I join the Gorilla Bow Challenge?
When you click "Join the Gorilla Bow Challenge" you'll be taken to the next page where you can select your Gorilla Bow. Choose your favorite style and then complete your order using our secure and fully encrypted safe checkout. (You're also covered by our 60-day guarantee)
When you place your order, you'll get a confirmation email.
From there, we'll ship your new Gorilla Bow directly to you. (normally there's 2 day delivery) and then the challenge will start 1st of October!
Do I need to use a Gym? What equipment is required?
No gym is needed.
All you need is a Gorilla Bow and as little as 20-minutes a day to complete the workouts.
How does your 60-Day Guarantee Work?
Simple. This challenge comes with a complete 60-day guarantee.
If for whatever reason you're not satisfied, just email ​support@gorillabow.com​. Include your order number and reason for the return.
Please note because the Gorilla Bow is a physical item, all returns are subject to a small shipping fee.